Risk of Rain 2 was released for early access in 2019 for PC. It is the 2nd installment of the Risk of Rain series which launched in 2013. It is developed by Hoppo Games and is published by Gearbox. The game has leveled up from the previous games which were based in a 2D environment, Risk of Rain 2 features a 3D environment. Risk of Rain 2 is a 3D roguelike third-person shooter game. Like the previous game Risk of Rain 2 has the same base plot.
The player is stranded on an alien planet, in order to survive on this planet, he has to fight monsters, push through various different environments and collect upgrades that boost his combat abilities, and try to get off the hostile territory.
The game features a vast open area on the map and the player is free to choose whichever way he wants to go. The main objective is reaching the teleporter in order to proceed to the next level. This gives it an open world-like feel much more like Crisis where the player had the choice of how to approach an objective even when the game's plot was linear. The game uses Unity Engine. Unity engine is quite popular in modern 3D games and is very powerful. The game graphics are very smooth and colorful and combined with the electronic soundtrack it becomes an unforgettable experience.
The game has a unique level design that loads the next level already in advance. When the player enters the teleporter he does not have to wait for the level to load. This eliminates the black screen or loading screen. The player is sent directly at the start of the next level. This uninterrupted experience is what most players want with their games. This was earlier possible with the 2D game genre which had low CPU usage. The developers of this game have done a great job bringing this feature to 3D gaming.
In This Post
Risk of Rain 2 Character List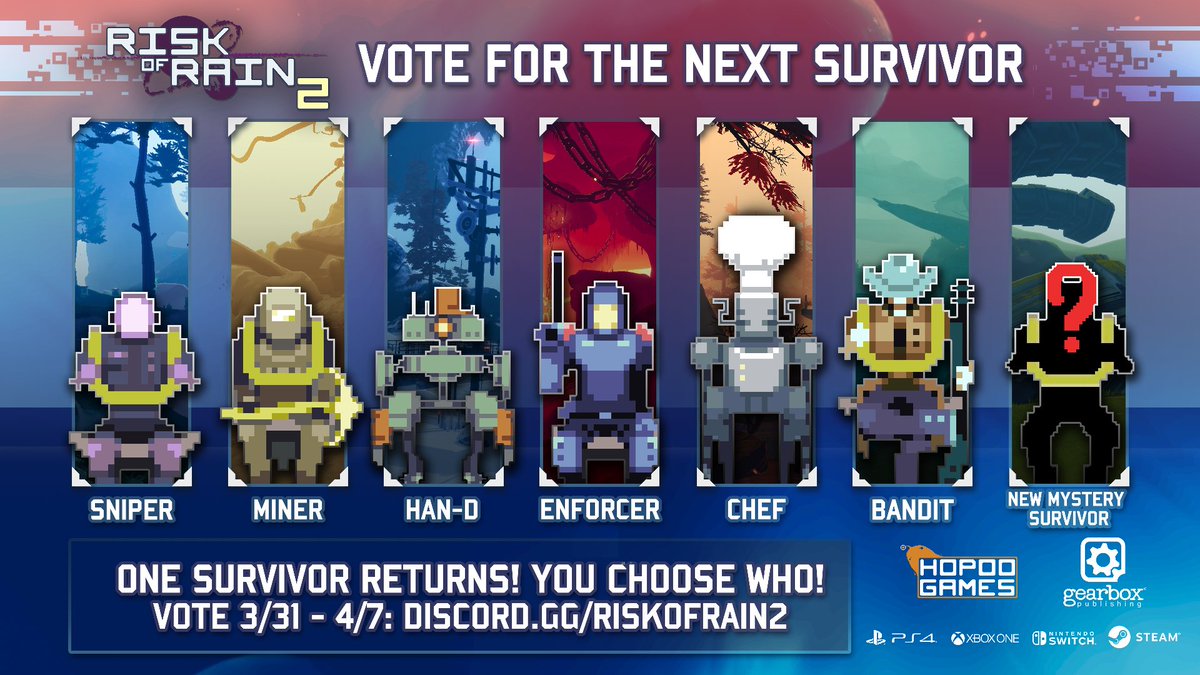 Risk of Rain 2 has fourteen playable characters all with completely different skill sets and abilities. At the beginning of the game, we get only one character and the rest are unlocked by completing challenges. Below is the list of all characters:
Acrid
Artificer
Bandit
Captain
Commando
Engineer
Heretic
Huntress
Loader
MUL-T
Mercenary
REX
Railgunner
Void Feind
Note- Railgunner and Void Fiend are 2 new characters introduced in the Survivors of the Void DLC. and are accessible only after downloading the DLC.
We have prepared a tier list according to the best character and classified them into five tiers. S-Tier has those characters who are most versatile and powerful and have many skillsets. These characters can are useful for any type of combat and can deal with all types of monsters.
while those in D-Tier are those who deal less damage and have limited skillsets. these can not last long in a fight in the later levels of the game. This list contains those characters which are unlocked in the beginning levels of the game. This means every player has to play with these characters for a while before unlocking the more powerful characters.
Risk of Rain 2 Tier List
| | |
| --- | --- |
| Tier | Survivor |
| S-Tier | Captain, Loader, Bandit, Heretic, Railgunner |
| A-Tier | Engineer, Huntress, MUL-T, Void Feind |
| B-Tier | Acrid, REX |
| C-Tier | Artificer |
| D-Tier | Commando, Mercenary |
Risk of Rain 2 Tier list
S-Tier:
The captain is suitable for close-quarter offensive combat. His survival kit contains a shotgun as the primary weapon microbots for defense and a taser for stalling the enemies. A shotgun may seem like a close-quarter weapon but it can be charged up to reduce the spread. This lets you deal some damage in longer ranges. The taser lets the captain keep his enemies down for a while and gives him time to either distance himself from the enemy or prepare for the next attack. The Microbots are for defensive purposes, they shoot any projectiles coming toward you.
The Loader has the ability to grapple the enemies and can also stun the enemies with these attacks. she can pull small enemies down. You can grapple heavier enemies to slingshot over them to decent heights and attack from above them. Loader is not that flexible like the Captain but is capable of completing the runs with some difficulties.
The Bandit is an agile and sneaky fighter, its abilities focus mainly on keeping on the move to get the enemies off guard and then dealing massive damage to them. His kit contains a Shotgun as a primary weapon, daggers for melee attacks and close combat, and smoke bombs for defense. Bandit has a very cool passive skill called Backstab. if he attacks an enemy from behind his attacks turn into critical strikes.
The Heretic is a very powerful character that cannot be accessed from the start menu directly. You have to transform into it by collecting all four Heresy items at once. Each of these items gives it a different skill. Along with these four skills heretic has higher health and damage and can move comparatively faster than the other characters. It also has a triple jump ability that allows her to traverse distances faster. One downside of this character is that it has negative health regeneration i.e. her health decreases over time. This means you have to complete the run faster and it keeps getting harder using this character.
The Railgunner is a new character introduced with the Survivors of the Void DLC. It's accessible only if you have the DLC. Railgunner is a long-range combatant. It carries an M99 sniper rifle which can highlight enemy weak points and deals heavy damage. Its railgun feature deals heavy critical damage to enemies piercing right through them. Railgunner is unlocked by default in the DLC.
A-Tier:
Engineer is the strongest in close combat and deals very high damage. Their downside is that they are less mobile. They can set defensive lines by deploying turrets which can also be used for flanking the enemies. it has two deployable turrets- TR12 Gauss Auto and TR58 Carbonizer. These turrets can also be upgraded using game items.
Huntress is also unlocked by default at the start of the game. She has low health but high mobility and damage. She can shoot homing arrows which allow her to keep moving. Huntress moves out of danger easily, and evading is the most important part of her gameplay. It carries a glaive for close combats situations. She also has an ability called arrow rain which helps to deal with multiple enemies at once.
MUL-T stands for a multipurpose robot. It is an aggressive survivor with high armor and damage. It can be difficult to control for beginners. But its high armor makes it a popular choice among players. It carries four different weapons and can swap between them very fast. IN the armor-powered mode it can use 2 weapons at the same time. Other abilities include transport mode which increases its speed and damage.
Void Feind is the second new character introduced in the Survivors of the Void DLC. It needs to be unlocked first. To unlock this character you have to enter the new environment called planetarium and kill the final boss. When you exit the environment you are transformed into a Void Feind. It's a corrupted survivor which can harness the power of the void. This survivor has two forms- controlled and corrupted, and it constantly fluctuates between them. Once in the corrupted form, its abilities become more aggressive. The corruption meter starts decreasing in corrupted form and it comes in controlled form when it reaches zero.
B-Tier:
Acrid is an offensive character and has high damage which is comparable to Heretic. It can do coth melee combat and crowd control. His abilities allow him to deal damage in medium-range attacks also. It can spew poison on enemies which can melt down multiple enemies at a time.
REX is half plant and half robot. It uses its health to do attacks. This makes him trickier to play with. To counter the decreasing health it has an ability called weakening which uses the enemy HP to refill his own. When REX attacks any enemy it gets some HP per hit on the enemy.
C-Tier:
Artificer is not an impressive character. It somehow feels wrong to put her in the last tier, but it does not have that many abilities to be in the B-Tier. She can do mid to long-range attacks and is effective for crowd control. Artificer carries a flamethrower which deals a fair amount of damage to the enemies. Artificer is less mobile. But his ability to efficiently deal with multiple enemies sets him apart.
D-Tier:
Commando is the first character of the game and it is unlocked by default. This means you have to play with this character for a while except if you choose Huntress which is also unlocked by default. He was an important character in the first game but that is not true for Risk of Rain 2. Commando is the jack of all trades but master of none. His abilities are not unique. Even though he has a vast skill set and abilities, it does not deal much damage. He has less damage, speed, and mobility. Commando is suitable for all kinds of situations but still, people move on to better survivors after unlocking them.
Mercenary is an offensive character its abilities are focused on melee and chaining attacks to keep moving constantly. It has smaller cooldowns which makes constant attacks possible. Its higher speed and mobility allow it to dodge attacks and move in and out of combat easily.
That was the Risk of Rain 2-tier list for May 2023. Comment and tell us what is your favorite survivor.
FAQs
How Many Characters are in Risk of Rain 2?
Risk of Rain 2 has fourteen playable characters all with completely different skill sets and abilities.
1. Acrid
2. Artificer
3. Bandit
4. Captain
5. Commando
6. Engineer
7. Heretic
8. Huntress
9. Loader
10. MUL-T
11. Mercenary
12. REX
13. Railgunner
14. Void Feind
How to unlock the Void Feind character in Risk of Rain 2?
After you download the Survivors of the void DLC you will get access to the Railgunner character which is unlocked by default in the DLC. you have to teleport to the new environment called planetarium and defeat the final boss in a three-stage battle. You can use any character for that but most players prefer the Railgunner. After defeating the final boss you teleport back to another environment except for this time you will be transformed into the Void Feind character.
Conclusion
This is it for the Risk of Rain 2 Tier List. We hope this information will help you make better decisions in your Risk of Rain 2 Gameplay Experience. Feel free to drop by your feedback in the comments section below and stay connected with us. We will be back with more exciting gaming news soon, till then!